VOLUNTEERS
Volunteering for DASH can take many forms, to suit the time/skills you are able to give. At our drop-ins (Mondays and Thursdays) we need help with: supervision of children, in the kitchen, sorting out donated goods, giving lifts to clients for essential appointments (solicitors, doctors, schools etc), basic form-filling and befriending. We are particularly in need of volunteers who drive or who are DBS certified. For all volunteering queries, please contact Volunteer Manager Nigel Nyathi on 07833 285928.
FUNDRAISING
Would you consider fundraising for DASH? Events such as dinners, coffee mornings, sponsored sports and other activities, concerts, raffles or head shaves could all raise funds (and awareness) to help us continue our work.
HOSTING
DASH offers a hosting service for asylum seekers and new refugees who are without accommodation. This can be long term and the longest staying client was with us for just over two years. However, the call for hosting has been much reduced recently as we seem to have managed the situation so that we are now only seeing people on an individual basis whereas before we were mopping up problems with clients who had been around for years.
Hosts are asked to provide an evening meal, or the opportunity for their guest to cook for themselves. Typically, a guest would arrive in the early evening, and leave the following morning at a time arranged to suit you. Guests are not normally allowed to stay in your home during the day. We will offer support to hosts by providing regular telephone contact and the opportunity to meet and talk to other hosts and volunteers in the organisation. All hosting which becomes more long term will be reviewed on a week by week basis.
PARTNERS AND SUPPORTERS
Salvation Army, Red Cross, St Patrick's Church, Welcome Centre, Tesco Fareshare, Al Suffah Mosque, Al Khair Foundation, One Community Foundation, Archer Trust, Tudor Trust, St Barnabas Church, The Net Church, St Cuthbert's Church, All Hallows Church, Melpham Morman Church, Lindley Morman Church, Brelms Trust, Cummins, One17Design, Volunteering Kirklees, Kirkheaton Church
We take referrals from St Patrick's Church, Ark Church, Al Suffah Mosque, Kirklees Council, White House surgery, GPs in Kirklees, Kirklees mental health services, HRI, Calderdale Hospital, Huddersfield Mission, Volunteers Together, HAAS, the Women's Centre, the Welcome Centre, the Elim Church, the probation service, Fusion Housing, WISH project, West Yorkshire police, Red Cross Bradford, Beacon project in Bradford, Solace, Refugee Action in Bradford, Wakefield City of Sanctuary, St Augustine's Halifax and LASSN in Leeds.
DONATIONS
At present we have some funding from charitable foundations, and are also supported by loans and donations – clothes, toys and other donations in kind. DASH is in need of more funding to support its work, and if you can assist us in any way we would be most grateful.
Please send any donations by cheque, payable to DASH at 210 Bog Green Lane HD5 0PS, with your address, and request a gift aid form.
We do hope that you will consider supporting DASH. You will be offering a lifeline to someone who has nowhere else to turn, and helping them to stay mentally and physically healthy.
Many thanks to Chloe Glover who ran a marathon for us in Amsterdam last autumn.
… and to Sarah Wilson who organised a benefit for DASH to raise money.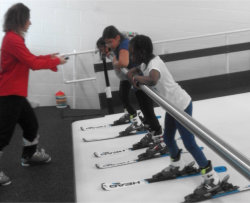 We are also grateful to Volunteering Kirklees for assisting us with providing volunteer opportunities in Beaumont Park and to Captain Adrian Lee of the Salvation Army for their continuing support, but particularly for taking 16 clients in a minibus to an indoor skiing activity.
Thanks to the Al Suffah Mosque for their continuing support with food and clothes.
We are also grateful to our clients Rashad and Zak, for leading many trips over the summer, including to the National Media Museum, the Jungle Experience, the Dog Show in Halifax and the National Mining Museum.